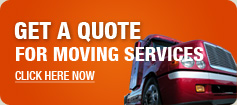 Our Moving Services
What We Offer
Corporate Relocation Services
Apartment Moves
Military Transportation
Antique / Delicate Item Moves
Local Moves
Out of State Moves
Free Moving Quotes
Packing Services

Moving Tips
To pack or not to pack:


Before you move it is wise to decide what you really need. It does not make sense to pack things that you have not used in months. Normally you will come across papers that you have filed away for a rainy day. Make sure these are documents you really need and not that you are a pack rat.
Try to figure out what toys your kids do not play with or have outgrown. Donate any unused toys to a charity like toys for tots. Have a talk with your kids explaining that they no longer need the toys and there are kids that do not have any toys at all.
Worn furniture that is beyond repair does not make sense to move. If you are able to get new furniture delivered to your new home then throw away the old. This way you save on the mover's time and you also save space for stuff you really need in the truck.
Moving with your pet:
Sometimes it can be complicated when moving with a pet. Aside from having to update vet records, you may have a pet that the law requires you to register with the state and you have to notify them of the change in address.
If you have a dog walker or a pet caregiver they will need to be notified so they can start coming to the new address.
If you are traveling with a caged pet make sure the cage is secured. Sometimes pets such as birds can get out if a door were loose. You are responsible for any pets that cause damage or harm anyone also.
You may have to retrain your pet for the new home. If they were house broken and suddenly their restroom was moved they may not adjust so easily.
Introduce your neighbors to your pet. This is a good way to prevent any trouble if your dog is barking at night. They would knock or call before they called the police because they have a relationship with you and your pet.
Spend time with your pet in the new home to make sure he/she has adjusted to the new surroundings. This will ensure that they stay house broken.
Moving your office:
When moving an office you have a lot of work ahead of you. You have to make sure that your operation runs smoothly even during the move process.
You should schedule your utilities and services to be disconnected a day after you move. This way the utilities and services would have a lower chance of accidentally being disconnected early. An early disruption may cause you to lose business.
At the same time it is important to schedule your new services to be connected a week early. Sometimes a phone company for example will not be able to send anyone out for a week or so. This can be devastating if you waited until the last minute to call the company. I personally have made the mistake in the past with my cable. I did not have my high speed internet for a full 6 days! I had to run my business from the library.
Your employees need to know the new location and when they are supposed to be there. If they get it in a written memo they should have no excuse to be late or tardy.
Mail should be changed immediately. You need to make sure your clients are sending you the check in the right place. While it is smart to notify everyone of the move it is also wise to forward all mail just in case there is someone you forgot to notify.
Moving your kids:
When you have kids it is a good idea to make sure they stay occupied during the move. If you are spending a good amount of time at the new location during the move make sure you bring plenty of toys, DVD's, and games to keep the child busy. This will keep the kids out of the way while movers are bringing in your belongings.
Make sure the kids are in a room with little traffic. They may get hurt if they walk in front of a mover. The movers may not be able to see small children and accidents can happen.
Move your microwave and other appliances you may need to make your children some food. If they are at the new home with you they are bound to get hungry.
If the kids are small you should use cups with lids to make sure they do not spill the drink on the new carpet. Kids are notorious for having an "accident" with their beverage.
Pack and move the child's bed first. While at the new home they may need to take a nap.